Entrance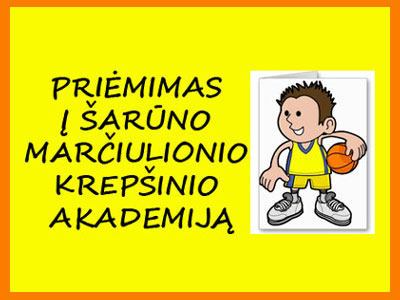 Admission
On a beautiful and warm last summer evening, 7-11 years old students, who wish to learn to play basketball, and still gathered in the renewed paint smelling Šarunas Marčiulionis Basketball Academy courts. Here took place selection of boys born in. 2003-2007 m. into this age group's open vacancies.

In new school year Š.Marčiulionis basketball academy's model has changed to increase quality of work and excellence, and after leaving only two of each age groups, boys are being accepted in to open vacancies. Therefore, candidates to learn basketball in the academy, had to take the four tests, which were based mostly on desired properties of young players. Broken down by age, the boys ran 20 meters, took vertical jump test, were throwing a tennis ball and took the agility test. Height of all the children was measured, also the weight of the youngest.

At first the children a little nervous, but then calmed down and diligently did all the exercises. After the screening test, the coaches answered all the questions of parents of future players. With students gathered in schools, Šarunas Marčiulionis Basketball Academy will open a new, twenty-third season with the slogan "Our goal is not quantity, but quality!".