Basketball Without Borders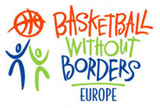 The first NBA and FIBA organized "Basketball without Borders" camp was held in Europe in July of 2001 – in Treviso, Italy. Shortly after that, NBA players and European basketball stars Vlade Divac and Toni Kukoč together with other former Yugoslavian NBA players arranged a basketball camp for a 50 kids from Serbia, Montenegro, Croatia, Slovenia, Macedonia and Bosnia-Herzegovina. Since then, the geography of the camp has spread a lot, and now is represented in all four Continents. In 2006, the first "Basketball without Borders" camp was organized in Lithuania. There were more then 50 most promising young (age 16-18) players from 27 European countries.
Young basketball players were guided by the USA and Europe's best coaches and NBA players. Among them – 4 NBA players from Lithuania: Cleveland Cavaliers center Žydrūnas Ilgauskas, Chicago Bulls forward Darius Songaila, Denver Nuggets forward Linas Kleiza, also Šarūnas Jasikevičius, who decided to join the camp staff the very last minute. According to the strict schedule, young players participated in open practices, played games amongst each other, and had a chance to take part in seminars and discussions about sports and healthy lifestyle, with the NBA players and coaches.
"Basketball without Borders" camp has more goals then just to grow the skill and experience level in young players. This is also a charity and education project, eager to bring the NBA to a closer collaboration with the society and people from various social groups.