Intensive Care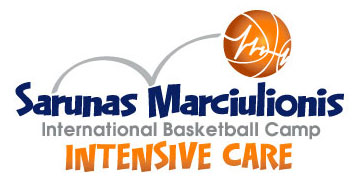 INTENSIVE CARE Camp - Š.Marčiulionis' basketball lessons for the academy students
At the end of June, Sarunas Marčiulionis Basketball Academy held the fourth annual basketball camp INTENSIVE CARE, which was designed for the best and most promising basketball of the academy. For three days, 4 hours each day (twice a day) S. Marciulionis shared his knowledge and experience with the participants of the basketball camp.
INTENSIVE CARE camp was attended by 70 best and most promising 10-15 year-old basketball players of academy. In the morning, campers learned specific basketball elements, which were repeated again in the evening. Moreover, they were able to participate in various events and competitions. During the last day of the camp, players and their coaches watched and analyzed recorded material from the previous practices.

Training camp INTENSIVE CARE is very useful not only for children but also for the coaches of the academy, who in the future will follow the same training concepts. As in previous years, the camp has been sponsored by Villa Alicante - leisure and entertainment center located in Vilnius.