Jordan Brand Classic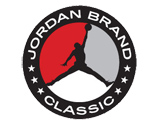 "Jordan Brand" is a NIKE division that searches for the young basketball talents all over the world and presents them an opportunity to show what they are capable of by allowing them to compete against the other promising young players from other countries. They also have a great opportunity to learn from the known NBA stars and USA basketball specialists by practicing in the world's most famous basketball arena – "Madison Square Garden".
The most promising sixteen year olds, two years in a row (in 2008 and in 2009) were competing in the Šarūnas Marčiulionis basketball academy (Raitininku 4A) in Vilnius, where the camp took place. After this camp the most talented young players were selected.
The best players of this camp, will have a chance to play in "Madison Square garden" arena in April. They will compete against the best young players in the world of their age in a JBC tournament, and also learn from a famous NBA stars and USA basketball specialists.
The first day in a camp held in Vilnius, will be dedicated to exercise skills and to find the strengths of the young players. The coaches from Europe and the US will watch the young players and will evaluate their ability to accept and adopt the training process, which was used by the best player of all time – Michael Jordan.
The second day of the camp will be open to the public and all the people are allowed to watch the All-Star games, where the best young players of the camp will be divided into two teams. After this game, the best 10 players of the camp will be selected to represent their country in New York, April 18th, in the legendary "Madison Square Garden" arena, where the "Jordan Brand Classic" games will take place.
"There are no doubts that a Lithuanian player should be in the top 10 of the young talent roster, maybe even more than one." – was certain M. Ševčenka
"Jordan Brand Classic" – is a All-Star basketball event, where the best US high-school basketball players compete against each other. There are many basketball superstars, that have participated in this "Jordan Brand Classic" tournament in the past, including LeBron James, Chris Paul, Carmelo Anthony, Amare Stoudemire, Kevin Durant and many others, who still fascinate the basketball fans with their ability to play this game.