HALL BALL 2013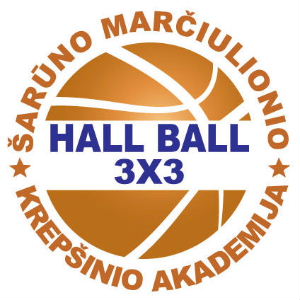 On Lithuanian Independence Day, March 11th, Sarunas Marciulionis Basketball Academy organized a nineteenth DALKIA HALL BALL 3x3 basketball tournament in which 80 teams competed in ten groups (306 participants) from Vilnius, Kaunas, Panevežys, Molėtai and Ukmergė. In this basketball event, Š.Marčiulionis basketball academy was represented by 53 teams (203 participants). Within seven hours there were 125 matches played in 6 courts.
This year, for the first time, players 8-9 years of age competed in the youngest group. Moreover, parents of the students also competed in a separate group. All tournament participants who failed to get to the finals, could participate in the NIKE caravan competition, which was really fun and playful. HALL BALL 3x3 tournament is a great opportunity for the young players to see what they are made of, and for the elders – to have a great time amongst the like-minded people.
At DALKIA HALL BALL 2013 tournament registration, all participants received a nice t-shirt with the new HALL BALL 3x3 tournament logo and coupons with 25% discount for Nike sneakers. Tournament finalists were congratulated and awarded valuable prizes by the main sponsors of the tournament, who willingly support this beautiful spring basketball celebration for many years now.

Champions of HALL BALL 2013 Tournament:
GROUP
AGE

I PLACE

PLAYERS
II PLACE
RESULT
3 RYKLIAI
K.Vigraitis

SPARNAI



7:6

1-04
9 m.
M.Japertas
M.Remeikis
KILLER TEAM

M.Geleževičius
TEAM 2003



11:9

2-03
10 m.
K.Puidokas
M.Puidokas
E.Butkus
ŽABA-LUX

B.Linartas
ŽALIA BALTA



12:10

3-02
11 m.
A.Linartas
A.Krūminis
Ž.Aleksa
VIKINGAI

P.Mačiulskis
SKM FROSTEC



9:4

4-01
12 m.
A.Marčiulionis
T.Januševičius
G.Pranskūnas
SNAIGĖS

D.Sirvydis
KINDER



17:3

5-00
13 m.
L.Naimovičius
D.Giedraitis
G.Giedraitis
NAURA

D.Gadlijauskas
TV ANTENA



10:7

6-99
14 m.
D.Paškevič
T.Vaičiūnas
R.Bosakas
MAKLAUDAI

Š.Tamkevičius
SHAPE



10:6

7-98
15 m.
A.Pilauskas
E.Kucevičius
A.Nemeika
PARTNERIAI

P.Tebeliškis
HARD WORK



10:9
8-97
16 m.
M.Pigaga
J.Švambaris
D.Juršėnas
311 BUDHHA

M.Matekonis
BLAŽYS



10:8

9-95/96
17-18 m.
R.Petraitis
A.Karvelis
D.Pavlovskis
01-JĖGA

D.Sabaliauskas
98-JORDANAI



9:9

10-T
-
S.Jermolajevas
A.Januševičius
L.Rimkus

Winners of NIKE Caravan Chalange:
| | | | |
| --- | --- | --- | --- |
| 03-04 | 9-10 m. | EXTRA TEAM | J.Bertašius |
| 01-02 | 11-12 m. | 3 POINTERS | M.Leščevskis |
| 99-00 | 13-14 m. | NEATĖJO | R.Raižys |
| 95-97 | 15-18 m. | NOVAK | P.Jasiūnas |