Champions Cup U-14 in Moscow
A sixth international tournament Champions Cup U14 (of boys and girls born in 1998), took place in Moscow, December 3rd-8
th
. There were 8 teams participating in a boys tournament - champions of their countries - from France, Serbia, Slovenia, Poland, Russia, Estonia, Latvia and Lithuania. Our country Championships U14 (born in 1998). Š.Marčiulionis KA I-Himeja team represented our country this year, led by coach Edvinas Justa.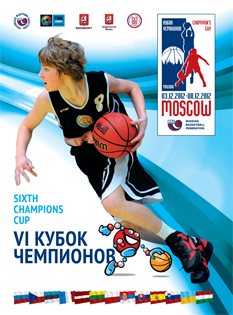 For the first three days all the teams competed in different groups. A team of Edvinas Justa, finished 1
st
in their group, after defeating the Polish champions 69:50, the strongest team in Latvia 73:61 and Slovenia 72:69. During semifinals Š.Marčiulionis KA-I Himeja team met with the strongest Russian team of fourteen year olds - Tournament host CSKA Moscow team and won it by the result of 76:65.

In the final Lithuanian basketball players once again met with the Latvian team, which was able to defeat a Serbian team in the other tough semifinal. This time the Latvian team was beaten by the score of 74:46. Russian team took a third place in the tournament.

Š.Marčiulionis KA-I Himeja team became champions of the INTERNATIONAL TOURNAMENT CHAMPIONS CUP U14 for the first time and was awarded the Champions Cup and medals. Aistis Pilauskas was elected to the symbolic five best players of the tournament, and Vilius Zukas was elected as the best player in the team!